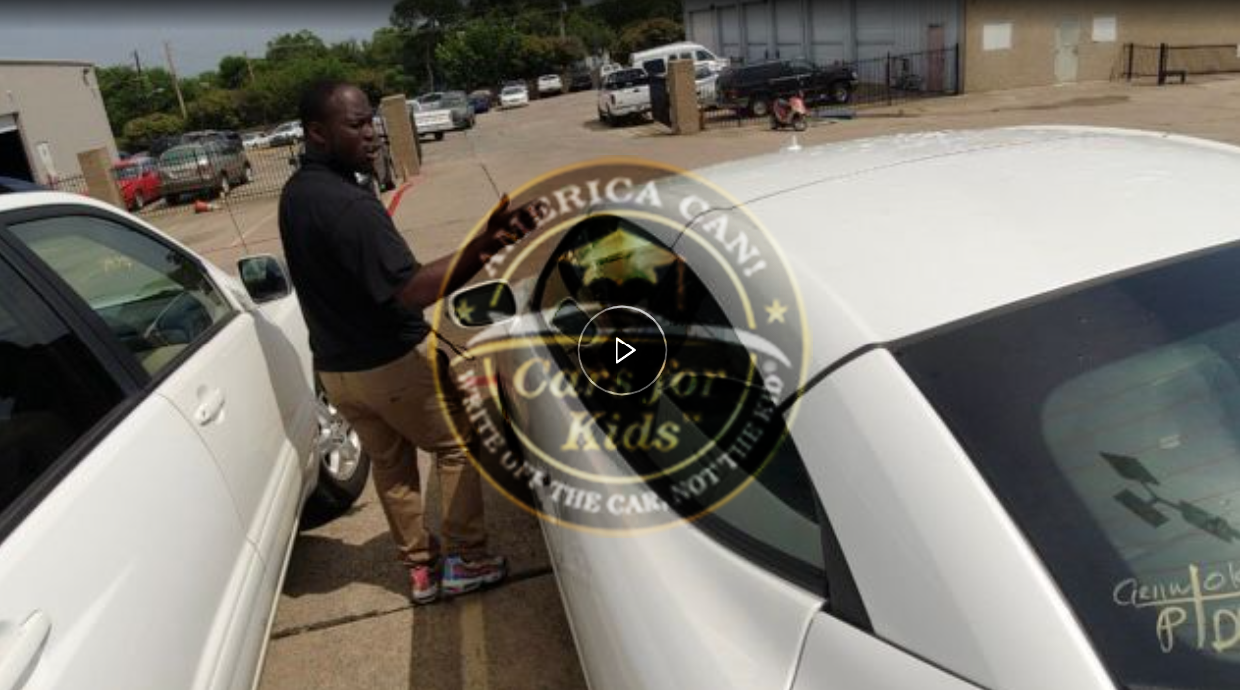 DALLAS - The supply chain back-ups that are leading to high demand and low supply in the vehicle market may stick around for some time. That's not just a problem for people who buy and sell cars, but also for the groups out there the rely on them to help others.
The latest estimates from Auto Forecast Solutions show the computer chip shortage continuing and potentially reducing new car manufacturing in the United States by 200,000 units in 2022. That very problem has led a lot of Texas car lots to sit very low on inventory and struggle to get used cars to fill things out.(Source Spectrum News)
That problem also rings true at the Cars for Kids lot in Dallas, where leaders say they certainly haven't been immune to that shortage of vehicles moving in the industry.
"Right now our donations are down, so we need cars now more than ever," said Cars for Kids Interim CEO Colin Weatherwax.
Cars for Kids certainly differs from other car lots in North Texas; though as all the used cars on their lot won't be sold traditionally, but will go via virtual auctions they hold on Saturdays — and they're certainly not selling for a profit.
The organization benefits the Texans Can Academies, schools that provide a high school education for students that have struggled in traditional settings or are in need of a second chance at an education after not graduating the first time.
D-Karington "DK" Chaney can definitely tell people the benefits of that. These days, he works at the Cars for Kids lot taking pictures of the vehicles that come in and helping to prepare them for auction while he pursues his high school diploma. But not long ago, he was without a job and it looked like school was off the table.
"I found myself in a hard spot. Kinda didn't want to go to school, mom got cancer," said Chaney.
Chaney dropped out of school to be with his mom and help out at home, but quickly found the decision limited his options severely.
Then, Chaney met Cars for Kids' late CEO Malcolm Wentworth.
"Malcolm said, 'I'll change everything for you,'" said Chaney. "Gave me a job, but you know what the catch was? Can't get a job unless you go back to school."
Since then, Chaney has worked at Cars for Kids to help support his family while working toward his graduation, which he'll finally achieve this winter at a Texans Can Academy.
As Chaney walked the lot taking pictures for the weekend's auction, there were certainly a lot of noticeably empty spots. But the organization also likely has more spots filled compared to other car lots, since they're willing to open it to a wider variety of vehicles.
Chaney showed off cars that looked nearly new and worked well, along with others that looked like they weren't about to drive anytime soon. There were unique vehicles like a World War II-era car, an old ambulance and large motorhomes as well as bikes, motorcycles and boats.
Cars for Kids accepts donations of pretty much any vehicle, running or not, and turns them around for the cause. Chaney said even the rigs in the worst shape tend to find buyers who may just want them for parts or have any other number of ideas for the buy.
Leaders at Cars for Kids said the run on used cars right now has certainly been a challenge as some people that would normally donate have turned to trying to sell instead.
According to the charity's website, they're also offering to help people consign their used cars in exchange for a small proceed of the sale going to the cause. Weatherwax said they're also offering $50 gift cards along with the usual tax deduction that comes from a donation. After all, the charity's motto is, "Write off the car, not the kid."
Leaders at Cars for Kids encourage anyone looking to get rid of an old vehicle to give them a look — especially right now, while they're very in need of inventory to help their cause.
As he took pictures of a Lexus that just arrived on the lot, Chaney couldn't help but smile. After the organization pulled him up, he said every car they get feels like a great find to him, as he knows the change it can bring to kids' lives.
"Trying to get the money for the kids so they can get a second chance like I did," said Chaney.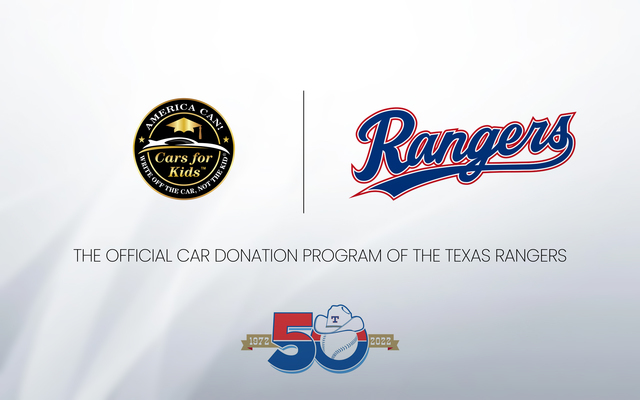 Cars for Kids join Major League Baseball team, Texas Rangers, in 50th-anniversary celebration with a $50 VISA gift card as a thank you for every car donation.
Cars for Kids is giving away $50 VISA gift cards for every car donation to help commemorate 50 years of family memories with the Texas Rangers. This massive collaboration of two passionate Texans sees Cars for Kids partner with the Texas Rangers during the team's 50th-anniversary celebration.
Major League Baseball (MLB) came to Texas in 1972, with Arlington Mayor Tom Vandergriff championing the move for American League owners to transfer the Washington Senators to Tarrant County, creating the Texas Rangers. Over the years, the team has grown in leaps and bounds, with several laurels to its name and massive followings in Texas and other parts of the United States. In celebration of the feats achieved by the Texas Rangers in the past five decades, the team has reeled out plans for its 50th anniversary season. Cars for Kids, which holds the title of the exclusive car donation program of the Texas Rangers, is joining the celebration to help support at-risk students in Dallas and Fort Worth.
Cars for Kids aims to take the celebration off-field by encouraging more people to donate any vehicle, running or not, to help kids across Texas graduate and build a better future. Cars for Kids offers free towing, an easy donation process, and friendly customer service representatives to walk you through the process from start to finish. The 501(c)3 charity will give away $50 VISA gift cards for every car donation as part of the celebration of The Texas Rangers' 50th-anniversary season.
For further information about Cars for Kids and learn how to support the cause of making the world a better place one educated kid at a time, visit - www.carsforkids.org or call 972-274-5437. Cars for Kids can also be found across social media, including Facebook and LinkedIn.
Remember, Write Off the Car, Not the Kid®.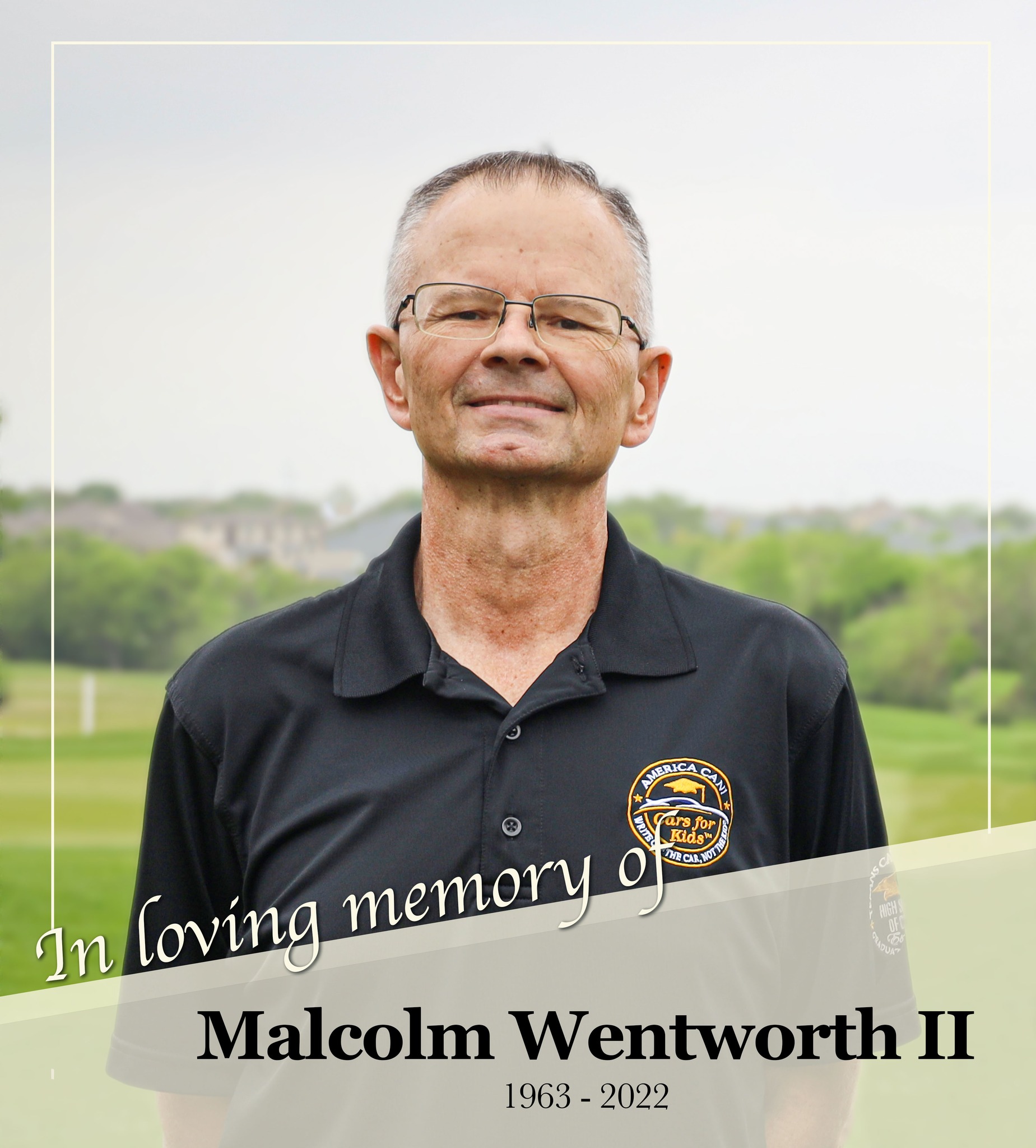 Mr. Wentworth worked with Texas Can Academies for 16 years, Cars for Kids for 11 years, and proudly served in the Marine Corps for 20 years.
It is with deep sadness and heavy hearts that we inform you of the passing of Malcom Wentworth II, the dedicated CEO of America Can! Cars for Kids, at the age of 58. He is survived by his wife, son, daughter, mother, brother and sister.
Malcolm enlisted in the US Marine Corp in 1982 and served 20 years for his country while also obtaining his Bachelor's Degree in Business Administration and Management from Saint Leo's University. He married his wife in 1983 and after his service, they moved to Texas to raise their son and daughter. In the spirit of service, Malcolm began working at the YWCA of Metropolitan Dallas as their Director of Business Services. It was here that he began giving back to his community and was noticed by Texans Can! Academies founder, Grant East.
While working at Texans Can! Academies from 2005-2021 as their Chief Operating Officer, he also accepted the position of Chief Operating Officer of America Can! Cars for Kids in 2011. Malcolm accepted the position of Chief Executive Officer in 2021. Malcolm will be remembered as more than a CEO; he was our leader and our beloved family member. Malcolm's enthusiasm, generosity and willingness to help knew no bounds and he will be dearly missed by all who were fortunate to know him. We will all miss him more than words can express.
He embraced America Can! Cars for Kids with open arms and we considered ourselves honored to work alongside someone with such dedication, skills, and tenacity to champion Cars for Kids' mission. Malcolm's legacy will live on as he worked tirelessly and passionately for the organization in many ways changing the lives of thousands of kids across Texas and for that we will forever be grateful.
He always said, and truly believed "Write Off the Car, Not the Kid"®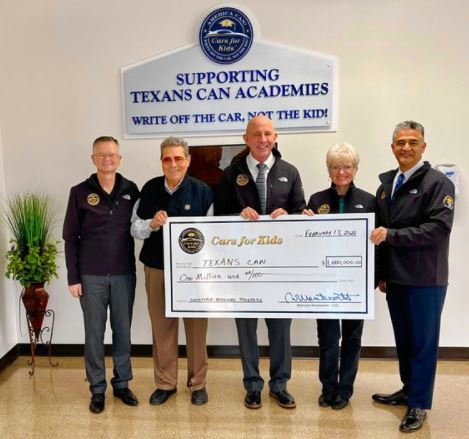 Texas-based 501c3 nonprofit charity organization, Cars for Kids, donates $1 million to Texans Can Academies, a school district, to help at-risk high school kids
Dallas, Texas: Cars for Kids has reiterated their commitment to giving kids an opportunity to build a better future as the nonprofit recently donated $1m to Texans Can Academies. The goal is to help at-risk high school kids find jobs as well as seek post-high school work training programs, a cause the nonprofit has championed for more than three decades.
Education is popularly described as the lifeline of any society that seeks development. Over the years, studies have revealed an increasing rate of at-risk high school students who eventually fail to graduate and subsequently become a liability to themselves and the community. Several initiatives have been put in place to help kids in such a situation. However, more needs to be done in this regard, especially in terms of funding educational facilities that have taken the cause to heart. Consequently, Cars for Kids is dedicated to the goal of changing lives and helping kids graduate by donating to Texans Can Academies of Dallas, Fort Worth, Houston, Austin, and San Antonio.
The approach adopted by Cars for Kids is particularly unique, encouraging more people to donate their vehicles. With every car donation going towards helping at-risk youth, Cars for Kids helps provide kids opportunities for them in an environment where they can flourish and graduate. The program covers all 50 states, with a team of knowledgeable and friendly donation specialists, led by CEO, Malcolm Wentworth, available to provide answers to the concerns of donors. As part of the goal of encouraging people to donate to create a better world for all, Cars for Kids provides free towing and accept cars, trucks, vans, motorcycles, RVs, campers, jet skis, forklifts, trailers, or almost any type of vehicle, irrespective of its condition.
Texans Can Academies have been the recipient of donations over the years and it has gone a long way in helping to develop responsible members of society across all walks of life. The donations include proceeds from the sales of donated cars as well as cash donations from members of the public.
For further information about Cars for Kids and how to be a part of the laudable life-changing initiative, visit - https://www.carsforkids.org/. The campaign also continues across social media, including Facebook and LinkedIn.
Media Contact:Company: The Original Cars for Kids
Name: Raul E Machuca Jr, VP of Marketing
Phone: 972-274-5437
Email: rmachuca@carsforkids.org
Address: 7100 Marvin D Love Fwy. Dallas, TX 75237
Country: United States
Website: www.carsforkids.org